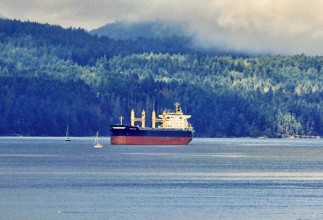 The Capesizes do not appear to be running out of steam any time soon with the week kicking off with strong improvements nearly across the board as trans-Atlantic RVs near the US$ 11,000s and front hauls trips seem bound to reach US$ 25,000 daily by mid-week. Pacific-based round voyage business is also quite bullish at the moment with owners securing upwards of US$ 13,000 daily on standard RV basis (despite charterers' efforts to lock in US$ 11-12,000) or about double the rates of two weeks ago.
Charterers say there has been a bit of relaxing in the strident position of Panamax owners in the Atlantic with last-done levels more likely to be secured than they were a few days ago. Front haul trips do appear to have stabilized in the low US$ 20,000s of around US$ 22-23,000 daily for the moment (basis 82,000 dwt tonnage), even as owners try to hit the mid US$ 20,000s for end-month dates. Whether charterers will end up winning out in this stand-off remains to be seen with market forces now in a tight balance.
Prospects have become suddenly more ambiguous for the Pacific Supramaxes with corrections seen on the NoPac RVs to the tune of US$ 500 day-on-day, taking levels back into the US$ 12,000s as charterers start to apply more pressure on rates where possible. Handies are steadier in the Atlantic. A 32,000 dwt is said to have fixed US$ 12-13,000 daily on DOP ex-W.Med via Continent to ECSA. A rate of US$ 9,000 DOP was secured on a 34,000 dwt vessel from the West Mediterranean via Black Sea to the US Gulf.
For exclusive news and updates about dry bulk shipbroking, subscribe to the BMTI Daily Report.