BMTI Daily Report
With exclusive news on dry bulk activity each business day, BMTI's flagship freight market report provides unbiased professional insights into the most important developments in global dry cargo shipping and exhaustive listings of key fixture transactions clearly, accurately and concisely.
The BMTI Daily report is charged 190 € on a monthly basis [Substantial discounts available on extended prepayment schedules]
Each business day: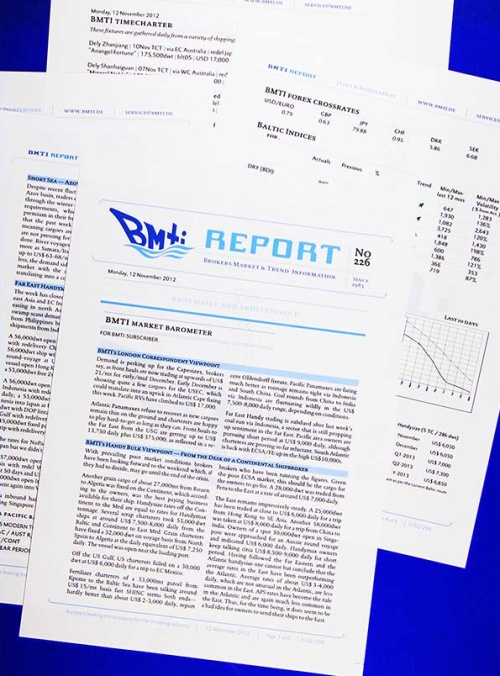 ◆ London correspondent
◆ Far East report / look over the fence
◆ Fixtures – from Handysize to Panamax / Capes
◆ Baltic indices (table and trend curve)
◆ Futures ratings / FFAs
◆ Foreign exchange rates
◆ International holidays [maritime industry]
Once a week:
◆ Commodity report
◆ Short Sea / brief view
◆ Far East report
◆ Container report / brief view
◆ Bunker report & prices (VLSFO, LSMGO, IFO 380, MDO)
◆ Investment review
◆ S&P report
◆ New ConTex
◆ Asia Pacific Rates
Plus:
◆ Latest relevant news on global politics, EU legislation and free trade agreements
◆ Background knowledge on specific topics – EPA / environmental shipping / green technolgy, etc. etc
◆ Authentic & exclusive broker reports from market insiders
◆ Important news on queue situation at international dry bulk ports
◆ Forecasts on the development of the dry bulk shipping market
Special editions:
◆ Yearly and half-yearly REVIEW, as well as yearly PREVIEW into the Dry Bulk Shipping markets
◆ Additional special BMTI reports, general and customized topics.
Read a Typical BMTI Daily Report Issue
Sample and Info Request
BMTI draws its information from a worldwide network of correspondents, news agencies and subscribers themselves. The BMTI Report is read by decision makers in the dry bulk shipping industry – ship owners and charterers alike – and distributed worldwide.
Subscribers receive the BMTI Daily Report via Internet as an email attachment (PDC = encrypted PDF) every business day at around 7am GMT. Trend evaluations and fixtures are compiled in a four to six page summary.