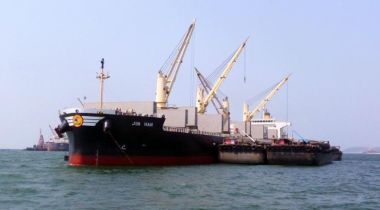 Off the Continent, the owners of a 38,000 dwt vessel have been testing charterers at a rate of US$ 29,000 daily for a trip via the Baltic Sea to the eastern Mediterranean, which ended up failing to attract charterers who were talking US$ 24,500. From the Black Sea area, loading in some Russian ports is now laden with an additional EWRI cost of around US$ 80,000 daily on top of the already much higher premium rates, owners are holding out for. Grain charterers continue quoting two cargoes from Romania to Tunisia, for which they aim at US$ 34-35/mt. A 30,000 dwt vessel is said to have been fixed at US$ 25,000 daily for a trip to the US Gulf.
In US Gulf, a large Handysize has been booked at US$ 38,000 daily from the Mississippi River to EC Mexico, whilst a 37,000 dwt vessel has been linked with a trip to the WCCA at US$ 42,000 daily. Coal charterers are working on a sale of around 50-60,000mt coal from the USG to Romania for which tonnage was available in the low US$ 50,000s daily. From South Africa, OSR continues quoting their 30-50,000mt fertilizer cargo to the Continent, which has been on the market for quite some while.
The East appears to be getting stronger for Han­dysizes. Last week, a 38,000 dwt ship was fixed to the Continent at US$ 38,000 daily, whilst yesterday a smaller vessel was fixed beyond US$ 40,000 daily for a similar employment. Shipbrokers report about charterers having raised their freight offer by US$ 4,500 daily in one go in order to meet the owner's number, which was somewhere over US$ 40,000. From WC India, a 53,000 dwt vessel was offered at US$ 51,000 daily for a trip to Israel, always a valid reason for the charterers to do nothing with it.
For exclusive news and updates about dry bulk shipbroking, subscribe to the BMTI Daily Report.