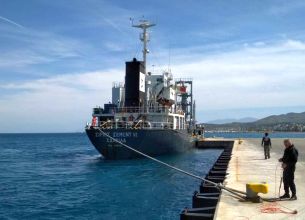 Countering recent, if modest, declines in day-to-day spot rates, Capesize owners are relatively confident that May will represent a return in demand and rate growth. The past week for Capes was, in fact, largely positive with the BCI up by 16% week-on-week and prospects still widely positive for the biggest bulkers going deeper into the second quarter of the year. Inter-Pacific demand has been fairly lively in recent days as mineral demand returns to some degree. Pa­cific RVs are holding steady at about US$ 12/mt.
Trends have been less positive for the Panamaxes in recent days, though there were signs of a rebound happening just before the weekend. Indeed, both the trans-Atlantic and front haul assessments increased by some US$ 300 day-on-day to about US$ 27,500 and US$ 37,500, respectively. While this scarcely represents are recovery, it was taken as a comforting sign by owners who have suffered continuous rate downgrades over recent days. Front haul business is rumoured to be already near US$ 38,000 daily DOP.
Atlantic owners of Supramax tonnage have seen ra­ther choppy trends in recent days with ups and downs coming more frequently than usual, leaving owners with a lot of questions about the month of May ahead. Trans-Atlantic trips from the USG to the Continent remain rather buoyant with US$ 47,000 moving to US$ 48,000 in less than 24 hours (basis 58,000 dwt). Front hauls are less bullish with mar­ket forces converging into a rather sideways trend and Black Sea front hauls steady at US$ 23-24,000.
For exclusive news and updates about dry bulk shipbroking, subscribe to the BMTI Daily Report.