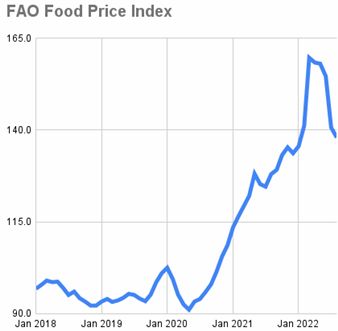 World food prices marginally declined for the fifth month in a row in August, based on the World Food Price Index created by the UN's Food & Agriculture Organisation (FAO). Consumers have welcomed the easing in price inflation following the massive surge that happened immediately after the onset of war in Ukraine. Despite the decline, the UN hastened to add that food prices remain at historically high levels and that index values in the 140-160 range are still around 50% higher than the five-year-average when the index was consistently steady in the 90-100 range before the arrival of the Coronavirus pandemic in 2020. Average wheat prices, for example, are still some 10% higher than they were this time last year. The FAO also lowered its 2022 grain output forecast by 1.4%, citing heat waves in the EU among other global production limitations.
Market experts say wheat from Russia and Ukraine is well-positioned to supply Southeast Asia to the end of the year given the considerable price differ­ential to EU Black Sea prices (Bulgaria and Romania) and the fact that France has already sold most of its current export grain stock to buyers in China and North Africa. Romania's newest wheat crop has also dropped 2.3 Mt below last year's record of 11.3 Mt. While Russian prices briefly surpassed EU wheat prices at the start of the war in Ukraine, the tables have since turned, leaving Ukraine and Russian wheat prices now as much as US$ 30/mt cheaper than their EU counterparts shipping from the "CVB" complex of Constanta, Varna and Burgas. Depending on Australia's final output numbers, Black Sea wheat stands a good chance of filling the gap to supply to SE Asian buyers in Thailand, Indonesia, Bangladesh, Vietnam and the Philippines. In the last five months of 2021, the aforementioned nations sourced about half of their imported wheat from Black Sea produc­ers in Ukraine, Russian and the EU-27 countries.
Following word from ArcelorMittal that the steel­maker plans to raise prices for European steel, a number of other European steelmakers followed suit with their own price announcements. This week, for example, ThyssenKrupp of Germany upgraded its offers for hot-rolled coil (HRC) to EUR 800/mt. Acciaierie d'Italia said it planned to raise its offers by EUR 100/mt starting in the first week of September. Liberty Ostrava of Czechia lifted its HRC prices to EUR 870/mt in central Europe, an estimated EUR 80/mt rise from its previous offers. ArcelorMittal's original announcement was that it was setting a tar­get of EUR 800/mt for October deliveries and EUR 850/mt for November. Steelmakers, despite contin­ued cooling demand, have been struggling to offset rising input costs as energy costs surge across the EU.
For exclusive news and updates about dry bulk shipbroking, subscribe to the BMTI Daily Report.