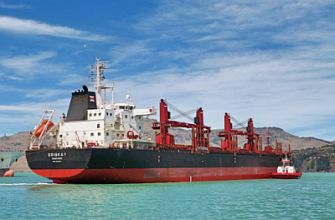 Even with the ECSA still providing just enough cargo demand to keep Brazil/China voyages hover­ing at US$ 20.8/mt, Capesize freights are looking at an increasingly thin upside with charterers and owners coming to something of an impasse. Pacific round voyages are also holding to circa US$ 8.2/mt, but owners are struggling to push those levels any higher for mid-July positions. Pac round time char­ters are under pressure in the US$ 13,000s range.
Atlantic Panamaxes are at something of an equilibri­um with charterers unable to push rates for TARVs any lower than US$ 6,500 while owners are hoping to keep them above US$ 7,000 daily at the same time. South America remains the great hope to turn things around and despite continued strength from the ECSA export market, the rest of the Atlantic is far less inspiring. New front haul business is also seen stabilizing with Kamsarmaxes said to be securing upwards of US$ 15,000 daily plus US$ 500,000 BB.
Apart from the sliding USG front hauls (currently in the US$ 12,000s), Supramax freights appear to be flattening in the Atlantic and potentially rising in the Pacific. The Black Sea front hauls have suddenly sta­bilized at upwards of US$ 11,000 (based on modern tonnage of 58,000 dwt) while Ultramaxes are al­ready securing more than US$ 12,500 on the same. NoPac rounds are mildly buoyant in the US$ 7,000s with some shipowners already seeking US$ 8,000s.
For exclusive news and updates about dry bulk shipbroking, subscribe to the BMTI Daily Report.