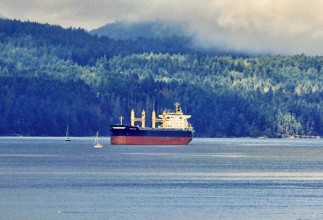 The chartering market is living up to earlier and repeatedly expressed expectations, i.e. staging a buoyant comeback by the end of February and/or early March, which proved to be conservative in hindsight—it happened, in fact, two weeks earlier. Alas, the Continent is lagging behind although owners feel encouraged to start quoting higher rates, which has less to do with the rise in the number of cargoes, than of a change in perception. The owners of a 34,000 dwt want US$ 15,000 daily for a trip to Brazil, which number they had not dared quoting last week. A 50,000 dwt vessel was rated by charterers at US$ 15,000 daily for a trip to the Med. The Black Sea also looks moderately better. Clinker charterers are facing stronger numbers with an Ultramax covered at US$ 23,000 daily from the eastern Mediterranean to West Africa.
An impressive rate of US$ 25,000 daily was agreed on a 56,000 dwt vessel for 4-6 months of trading with delivery in the Med. But US$ 23,000 daily on a 37,000 dwt for a trip to the Singapore area is unexciting. Rates are also getting more attractive for owners with tonnage open in West Africa, where a 53,000 dwt bulker got US$ 18,000 daily for a trip to the Continent-Med area. The good news from ECSA is that Panamax rates for trans-Atlantic business have gone up to US$ 14-15,000 daily, which last week was not even US$ 10,000 daily. This new trend will help bolstering the Ultra-Supramax market, which presently was still below US$ 30,000 daily for trans-Atlantic business. Grain charterers were bidding US$ 26,000 daily.
The US Gulf is also generating better returns for the owners. Handysizes are still outnumbering cargoes, which is not stopping the market from slowly creeping upward. A 36,000 dwt vessel last week got fixed at a rate of US$ 25,000 daily into China, the number for which has now risen to US$ 27,000 daily. A 34,000 dwt vessel was taken at US$ 11,500 daily for US Gulf to Mexico, which the day before yesterday was seen as an improvement. A 56,000 dwt ship is linked with a trip to Peru at US$ 32,000 daily.
The East is on fire. Short period fixing seems to be en vogue. An Ultramax was traded at US$ 26-28,000 daily for 3-5 months of trading whilst the owners of 28,000 dwt say they would not concede to 2-4 months of trading below US$ 20,000 daily, at which level a couple of contenders were there to compete. Back haul numbers on 32-34,000 dwt tonnage is up to around US$ 23,000 for a trip to the USG. Even for a trip Singapore area to WC India rates have improved to beyond US$ 21,000 daily on 32,000 dwt tonnage. A marvellous US$ 23,000 daily was pulled through by the owners of a 30,000 dwt for a trip from WCI to the Continent-Med. Lifting the coal export ban from Indonesia proved helpful to lift rate levels. A 54,000 dwt vessel found a rich taker at US$ 30,000 daily for at rip from Indonesia to/ex-WCI.
For exclusive news and updates about dry bulk shipbroking, subscribe to the BMTI Daily Report.