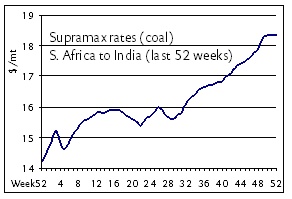 Some of the shine is already off of the Capesizes as the week comes to an end with the reality setting in that charterers are far from anxious to fix any major business this early in the year. As such, corrections come nearly immediately on the high-flying Pacific RVs, neutralizing the gains they made yesterday by an equal US$ 400-500 to bring them back to US$ 14,000. The rest of the market is moving more or less sideways, awaiting the first full business week.
Encouragingly active at the tail end of the week than at the beginning, Panamax fixing has still failed to turn trends around from their bearish paths. Period business has been especially prominent in the first week of the year with several short period deals (3-5 to 4-6 and 4-8 months) being concluded in the US$ 11,000s on standard tonnage and up to US$ 13,500 daily and higher on modern Kamsarmax tonnage of 82,000 dwt. The spot markets are nonetheless tepid.
If fixtures were any indication, one would think the Handy bulk is on the rebound. And that may still be the case in another day or two, but so far they in­crease in chartering activity has failed to make a dent in the resolutely downward trend of USG Supramax rates, which have fallen to US$ 26,000 daily on the benchmark for front hauls to CJK. Eastern activity has helped keep rates in the eastern hemisphere far more stable, all things considered, with mineral de­mand via Southeast Asia already taking a lead role.
For more of BMTI's daily shipping analysis, subscribe to the BMTI DAILY REPORT today.