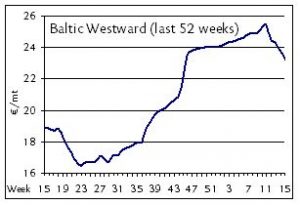 The holiday hangover has lingered over the Baltic Sea and North Sea coaster markets in the past week with southbound freights from ECUK still getting around EUR 40/mt on scrap of 3,000mt into the Western Med, brokers say. The reverse trip north­ward, meanwhile, is lucky to fix anything higher than the lower EUR 20s/mt, we are told by several reliable sources, with high teens probably even more likely. Imports from the Russian Baltic to Ireland have been seeing solid business since the second quarter began with talk that up to EUR 33/mt has been secured on middle-range parcels of 5,000mt. General cargoes from the lower Baltic to ECUK are looking at about EUR 20-21/mt with 4-6,000mt agri-prods. Mineral cargoes of 5,000mt have report­edly fixed EUR 35/mt from the WCUK to Marmara, with pressure from charterers putting the same run closer to EUR 33/mt for end-April positions. The market seems to be generally caught in a sense of limbo with neither owners nor charterers showing much interest in provoking or seeking any major change from last-done, hoping that a stronger mar­ket drive comes about early May when ice conditions have receded completely. On the bearish side, some brokers note, there does seem to be more tonnage coming open than what is being concluded, indicat­ing that the near term could see more power in the hands of charterers than in weeks past. We shall get a better picture when the holiday haze finally passes.
Baltic Ice Report: Ice is drifting slowly eastward in the Bay of Bothnia, according to Baltic Sea Ice Ser­vices. In the northern Bay of Bothnia is 40-75cm thick fast ice in the archipelago. At the fast ice edge is 30-50cm thick ridged consolidated ice to southwest of Kemi 2 and to Oulu 1. From Kemi 1 west and further to south runs a lead. Farther out is first 10-25cm thick very close ice and then 25-50cm thick rafted and ridged ice. In the southern Bay of Bothnia is 30-55cm thick fast ice in the archipelago. Off the ice edge is a heavily ridged ice zone, very difficult to force. Farther out is 25-50cm thick ridged very close ice. Ice pressure occurs in the ice field. In the Quark is 20-40cm thick close and very close ice. South of Sydostbrotten is open water. In the Vaasa archipe­lago is 30-50cm thick fast ice to Ensten. Further on to Norra Gloppsten is 15-30cm thick level ice. In the north Sea of Bothnia is 25-45cm thick fast ice in the archipelago. In the south Sea of Bothnia is 15-40cm fast ice in the archipelago. Farther out is open water.
For more short sea news and broker updates, subscribe to the BMTI SHORT SEA REPORT today.