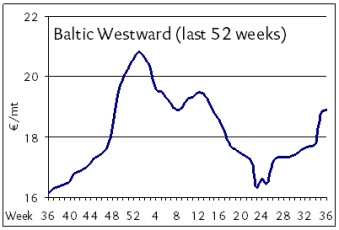 General sentiment continues to be buoyed by the ongoing grain season activities in the northern Euro­pean coaster markets with new shipments entering the Baltic from Germany, Scandinavia and the Baltic States, among others. Rates have been slowly but steadily edging upward on last-done, but very slow­ly with some shipowners reporting week-on-week premiums of up to EUR 0.50/mt but more upgrades proving to be closer to EUR 0.25/mt if anything at all. The firming pace of activity is nonetheless ex­pected to make September a better month than August was with hopes high across the North Sea and the Baltic Sea. Inter-Baltic trips from Norway with minor split cargoes of 3,000mt to the German Baltic continue to trade at unspectacular rates in the single digits of EUR 6-8/mt, depending on terms.
Northbound trips from ARAG to WCUK are still fetching low teens of EUR 12-13/mt under ideal circumstances on 5,000mt general parcels with little more than EUR 11/mt said to be available on ECUK or SCUK redelivery from ARAG. Eastward-pointing rates from ARAG to the Baltic States are fetching around EUR 17/mt on 3,000mt general cargoes, while the westward direction on the same run is shifting toward EUR 20/mt with some owners in­sisting they have already secured EUR 20.5-21.0/mt area rates on the same. The reality is probably some­thing closer to EUR 19/mt, however, with owners sounding overly optimistic on late-month positions. But even charterers have to admit that activity has remained steady with a growing upside and that more cargo options spell better prospects for the near term market. Long haul southbound trips from ARAG into the West Mediterranean remain rather lucrative with rates in excess of EUR 29/mt being reported regularly on standard general cargo parcels of 4-5,000mt. If grain momentum does continue to build across the northern markets, tonnage avails could be seen drawing down enough to begin im­proving spot rates by more than microscopic levels.
Get weekly updates from all the European short sea markets by subscribing to the BMTI SHORT SEA REPORT today.