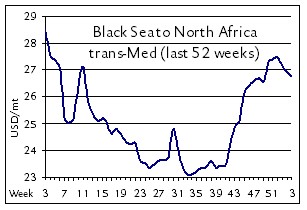 Adriatic Sea market: Imports have been strong into the Adriatic even as general volumes have slowed over the holidays and yearly transitional period. From Rostov, grains of 5,000mt (46′) can still fetch upwards of US$ 40/mt, though charterers are ap­plying pressure there. Import shipments to Ravenna have been strong with steels from Constanta fixing up to US$ 18/mt, corn of 6,000mt (48′) ex-Reni fixing circa US$ 27/mt, BHF of 4,500mt from Haifa getting US$ 22/mt and soybeans of 5,000mt (50′) fixing around US$ 25/mt. Pig iron on larger ship­ments of 15,000mt from Odessa have been reported as securing freights of US$ 20/mt to Ravenna.
Spanish Med: Activity has been relatively high from Seville, despite the holiday slowdown, with agri-prods, construction materials and steel products do­minating the export trade. From Seville, steel coils of 5,000mt have secured US$ 24-25/mt rates to Mar­mara while steel bars of 4,000mt from Seville are able to secure around US$ 20/mt to Skikda, brokers report, while profiles (5,000mt) have been fixed at US$ 25/mt to Iskenderun. Olive cakes (5,000mt) (52′) from Seville have been fixed at US$ 20/mt to Thessaloniki. Grain cargoes ex-Azov are being im­ported to the Spanish Med at circa US$ 40-41/mt. Profiles of 3,000mt were exported from Barcelona to Diliskelesi at US$ 19/mt. Bulk clay (4,000mt) was concluded at US$ 17/mt to Gaeta from Castellon.
Turkish Med: Cement from Mersin has been se­curing steady if low rates to Odessa around US$ 10/mt for 3,000mt cargoes. Upwards of 13/mt has been fixed on bulk cement (4,500mt) from Mersin to Damietta, brokers say. Imports of grain to Mersin have been strong and steady with US$ 34-35/mt the going rate for standard grain cargoes of 5,000mt (46′) from Azov and US$ 33/mt from Yeisk. Grain imports of 5,000mt (50′) from Black Sea to Mersin have been going for around US$ 24-25/mt from Nikolayev and US$ 23-24/mt from Novorossiysk as well as upwards of US$ 26/mt from Kherson and Odessa. Coal of 5,000mt (46′) from Temryuk is able to fix around US$ 27-28/mt to Iskenderun.
North African Med: Traffic around Egypt has been dependably busy with grains of 4,000mt (45′) being imported from Tuapse to Alexandria at US$ 28/mt. Alex has also imported cement in bulk at 3,000mt from Oristano at US$ 23-24/mt. Fertilizer exports from Damietta are strong with 3,000mt to Medgidia securing US$ 19/mt and urea of 5,000mt at US$ 28/mt to Seville while urea of 5,000mt fixed US$ 22/mt to Sicily. Clinker (5,000mt) can do US$ 15/mt from Gabes to Varna and other Black Sea ports. Debars of 4,000mt have fixed US$ 30/mt ex-Hereke to Libya while wheat of 6,000mt has been seen at US$ 23-24/mt ex-Mariupol to Lebanon.
Get weekly updates from all the European short sea markets by subscribing to the BMTI SHORT SEA REPORT today.