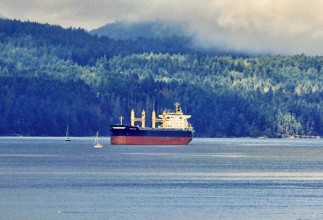 Off the Continent, an Ultramax was taken for a trip to the East at US$ 20,000 daily, and at US$ 15,500 daily for a trip tip to West Africa on Supra tonnage. Ultra scrap TC rates are hovering around US$ 13,500-14,000 daily. The Black Sea looks stable with 30,000mt booked from Romania to the East Med at TCE of US$ 13,500 daily. Rates are still sounding okay from the Med where clinker charterers took an Ultra at US$ 18,000 daily to West Africa. Grain charterers are linked with a 30,000mt cargo from Romania to the Adriatic at a TCE of 13,500 daily. A 36,000 dwt is rumoured as done at US$ 11,000 daily for 5-7 months of trading. From West Africa, Ultra owners were rating a trip via South Africa to the East at US$ 18,000 daily. A Handy of 33,000 dwt was ballasted to Santos to get fixed at US$ 14,000 daily for a trip to Morocco, which isn't really exciting.
Supramax font haul rates from ECSA are hovering around US$ 14,500 daily plus US$ 450,000 ls. In the US Gulf area Supra rates are down to US$ 15-16,000 daily for trans-Atlantic trips. Rates on large Handies are hovering around US$ 12,000 daily for trans-Atlantic destinations. Several 37-39,000dwt vessels have been fixed from Plate to WCSA at US$ 22-23,000 daily. South Africa has been busy with coal charterers rating Ultra tonnage at US$ 17,000 daily plus US$ 170,000 ls for a trip to India. Supramax charterers were allegedly seeing US$ 15,000 daily on a trip to Romania. The decline in the East is just amazing. Handy tonnage of 33-37,000dwt are getting fixed at US$ 6,000-7,000 daily for trips from Korea-North China area to South East Asia. Australian rounds have been done at US$ 7,300 daily on 35,000 dwt tonnage. Owners of 37,000dwt decided to ballast to Singapore to do a trip to the Eastern Med at US$ 10,000 daily.
For exclusive news and updates about dry bulk shipbroking, subscribe to the BMTI Daily Report.