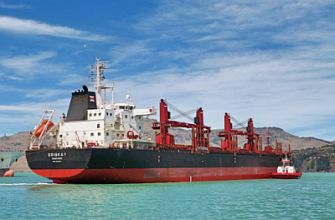 Following an extended period of ups and downs, Capesize rates hit the first proper week of Novem­ber with a major surge of recovery. Gains have been especially notable in the Pacific where the going rates for Pac RVs have jumped by as much as US$ 4,000 in 48 hours to trading in the high teens of US$ 17-18,000 daily—no small feat considering the same rates were in the low teens just a few days before.
Atlantic Panamaxes appear to be mounting a mild recovery if the past day of trading is any indication. Owners of 82,000 dwt vessels are fetching upwards of US$ 15,000 daily at the moment when they were settling for US$ 14,000s this time a week before. New front haul trips are also edging upward ever so slowly with US$ 22-23,000 daily range rates now showing buoyancy in heading toward US$ 23,000.
Steadiness is the main characteristic of Supramax rates in both basins even as talk of increased activity has been circulating in recent days. Indeed, the only area of notable improvement so far is limited to the US Gulf delivery freights, which to be sure are now climbing faster than they have in more than three weeks. USG front hauls are suddenly securing up to US$ 28,000 daily on modern ships of 58,000 dwt.
For exclusive news and updates about dry bulk shipbroking, subscribe to the BMTI Daily Report.